Ladies and gentlemen, this is Eli.
I have mentioned this sweet Iraqi-Israeli shopkeeper at the shuk open-air market before (not once, but twice), but here is another great story about him from last week. Last Friday, we braved the weekly pre-Shabbat chaos in the shuk to go buy our groceries. We stopped off at Eli's shop for a light bulb and he once again plugged it in to show us that it worked. We paid for it, and then Rodolfo got distracted by actual ice-cream-cone shaped Krembo marshmallow treats (the "cold-weather ice cream" I also mentioned before — they're usually shaped like small doorknobs rather than ice cream cones) and I got distracted by cheap packs of batteries. We paid for these two things as well and left, and it wasn't until we got home a few hours later that we realized we had left our first purchase, the light bulb, there. I figured it was a lost cause, since there is basically no such thing as receipts in the shuk and there was no way he would remember me later, just one face in the usual Friday chaos. I returned on Sunday when the shuk re-opened after Shabbat and tried to explain to Eli in English that on Friday I bought a bulb but forgot to take it with me. As I pointed to the styrofoam tray of lightbulbs at the front of the shop, a flash of recognition passed in front of Eli's face. "Yes!" he said in heavily accented English. "Welcome back!" and he smiled as he handed me the now-boxed bulb, which he had set aside to wait for me.
Then, this week, yet another light bulb died in a different room, and I went back to buy another one. And he remembered me again! He smiled and told me in Hebrew, "Remember to take it with you this time!"
As I have mentioned before, there is no such thing as customer service in Israel; culturally speaking, it is simply not done. Thank you, Eli, for taking the time to care for your customers and make them feel comfortable!
Also, Eli's shop has a Facebook page. Go check it out!
Happy New Year to the Trees!
If you're wondering what the heck that means, yesterday was Tu Bishvat, a minor Jewish agricultural holiday. In ancient times, the basic religious reason for it had to do with declaring a cut-off date for counting yearly crop volumes to figure out how much in-kind tithe was due for the year. In the modern Orthodox community, it has to do with calculating the age of trees to help observe the halachic rule of not eating fruit from a tree in its first three years.
Many Jews around the world celebrate this holiday by eating dried fruits from Israel. The funny thing is that the custom is supposed to be simply eating fruit (of any kind) from Israel. But for Jews that live in the diaspora, the best way to eat Israeli fruit is to eat dried or candied fruits from Israel that last longer and taste better after the long journey overseas. But even the Jews who have come back to Israel to live maintain their ancestors' tradition of eating dried or candied fruit from Israel… even though they themselves live in Israel and could also eat fresh fruit if they wanted.
Here's our nice spread, clockwise from the top left: the yellow one with big seeds is candied etrog, a local fruit of specific importance to the Jewish holiday of Sukkot; the shrively tan ones are dried figs, the round orange ones are candied clementines, and you probably recognize the medjool dates, the candied lemons and oranges, and the dried cranberries.
In the secular Israeli community, the holiday is celebrated like an Israeli Arbor Day. In honor of this custom, last year on Tu Bishvat, we planted some seeds that grew into delicious herbs that we've been eating all year long! So, happy birthday to our plants!
Now, on a more serious note, I need to ask for some help and prayers for a little girl named Hannah and her future mom, Amanda. Hannah was born with Down Syndrome and is living in a lonely orphanage far from the U.S. until all the bureaucratic hoops are jumped through and Amanda can bring her home. Amanda is a special education teacher who has dreamed of adopting a child since she was a little girl. She always thought of it as a goal for the future, but it became an immediate goal after she saw Hannah's profile on Reece's Rainbow, an organization which helps facilitate foreign special needs adoptions. "Although Mr. Right hasn't come around, if he does, having a child will only solidify that he's 'Mr. Right,'" Amanda says in her online profile. I was so touched by Amanda's bravery to answer this call alone; foreign special needs adoptions are harrowing even when you have a spouse to share the burden. I pray every day that sweet little Hannah will be able to come home soon. There are two ways you can help: the first is to donate money to Amanda's "Bring Hannah Home" fund on Reece's Rainbow. (Donations are tax-deductible.) The cost of foreign adoption runs into the tens of thousands of dollars. Will you help to make the burden on Amanda just a little lighter? Every little bit helps. Also, recent legislation in Hannah's home country may affect her adoption, and, in effect, puts an expiration date on its possibility. This needs to happen as quickly as possible, and that requires as much prayer as possible. Please also pray for the lawmakers involved; that their hearts will soften to do what is right and reopen the gates for the children's sake. Please also continue to pray for Amanda, for sweet Hannah, and for all the orphans all over the world.
You can read more about Hannah and Amanda and donate to their cause at Reece's Rainbow (or by clicking the button below).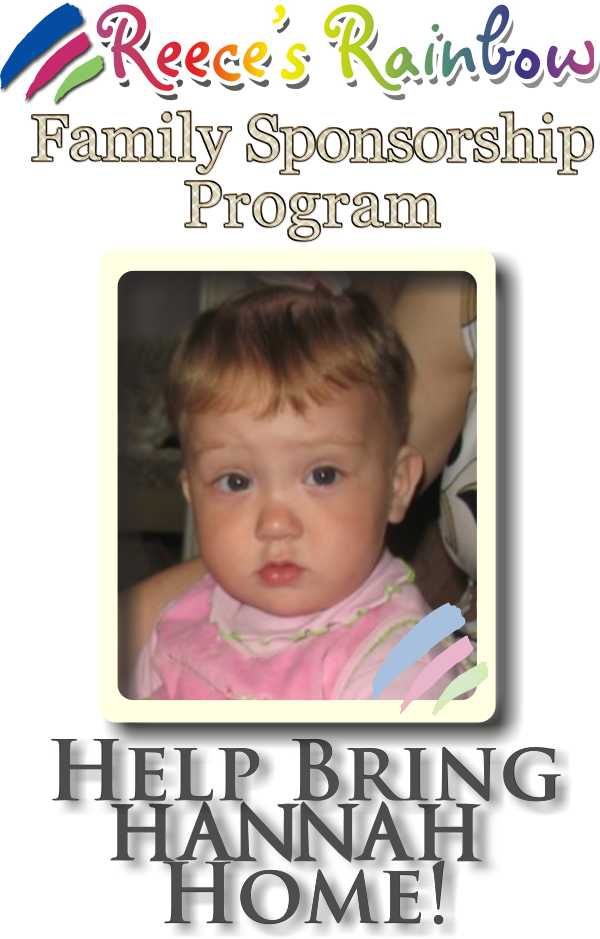 And, if you still need convincing, Amanda is running a prize giveaway for people who donate to Hannah's adoption fund. You could win gift cards, Vera Bradley bags, a Neiman Marcus purse, baby clothes or lovely scarves! Go check out the goods on Amanda's blog, Bringing Hannah Home.
A few weeks ago, one of the "kiosk" shops (tiny convenience stores) near the City Hall light rail station closed down. They built what looked like a record store inside. It looked cool, so I made a mental note to go there once it opened. Then, one evening after dark, the whole block was gridlocked with huge floodlights and camera equipment and I realized they were actually shooting a movie there. I walked past a girl dressed in punk clothing, a Girl-With-the-Dragon-Tattoo type, who was standing across the train tracks from the store, and they were spraying her down with something. I couldn't figure out what or why, since it was a relatively cold night. Suddenly, it got very quiet, and the director counted down from five in Hebrew. The punk girl ran across the street at top speed, and… dove headfirst into the storefront's plate glass window! The glass shattered and flew everywhere! A dazed security guard at the light rail station, who hadn't been watching what was happening, heard the shattering sound and looked around panicked for a moment before realizing what was actually going on. Then, the following evening, I walked past and noticed that the cameras were still there and the record shop was now engulfed in a scarily huge but well-contained fire. So I guess I won't be visiting that record shop after all.
You may remember when I mentioned Mark and Tamara from Planting Pennies, the lovely expat family in Korea that sent us some delicious Korean tea a while back. I sent them a little package of goodies to thank them — it turns out Tamara is a bit of a halva enthusiast and the boys really wanted a police vehicle with Hebrew letters. And when I couldn't find one for sale, I improvised!
They gave us a really sweet shout-out on their blog, and if you look closely, you can figure out how I made the Israeli police van. (In fact, almost all Israeli police vehicles I see are large cargo vans, rather than the cruisers we so often see in the U.S.) Go check it out over at Planting Pennies.
A little while back, everyone was talking about this ingenious 8-second shirt-to-skirt trick by Sarah at Welcome to the Good Life. And I literally laughed out loud when I saw it, because I did this once with a pullover sweater out of necessity this one time I accidentally wandered into an Orthodox Jewish neighborhood in pants (where the Simcha Fisher Pants Pass does absolutely no good) and was getting lots of dirty looks. My own inspiration came from a long-ago read book in the Baby Sitters' Club series
, when Kristy's little sister Karen started a trend at her school with her "sweater pants." So apparently, I'm a spur-of-the-moment fashionista and I had no idea!
(Note: DO NOT attempt this with a turtleneck.)
I'm also going to link this to Fine Linen and Purple's What I Wore Sunday, because this is the first time I've actually had something worth saying about what I'm wearing on a particular Sunday. Not to mention that I usually go to Mass on Saturday evening and I usually walk there, so I often go for comfort-and-cute rather than really nice. (And I'm not actually wearing the sweater-skirt to Mass; just the outfit all the way on the left.)
There. That's better.
I enjoy seeing my friends' WIWS posts (and they're really popular among young Catholic gals). The funny thing is that I always feel a little silly "sourcing" my clothes, because it always goes a bit like this: "thrift shop, thrift shop, vintage, thrift shop, some European store you've never heard of, thrift shop, picked out of someone's trash on moving day (and washed really really good), thrift shop, some Ecuadorean store you've never heard of, thrift shop, thrift shop…" And since I always thought the point of showcasing clothes was so other people could find and buy the same clothes, I never saw the point. But I see now that a lot of people have similarly unique and induplicable wardrobes, and I don't feel so silly, so here goes. The top is from Israeli brand Gallery-X, bought at the closet-sized vintage store I found in the City Center last week (I don't know if the store even has a name); the black shirt underneath is from Pinto, an Ecuadorean brand you've never heard of (Gracias, Luly!); the belt and flats are from Top Drawer, my absolute favorite thrift store in Austin; and the pants are from Bershka, a European brand you've never heard of. The sweater is actually a soft and fuzzy flannel pajama top, I believe from Target (Thanks, Mom!).
View more "What I Wore Sunday" posts on Fine Linen and Purple by clicking the button below.
And now for something completely different, let's celebrate throwing stuff. Pots, that is. Have you seen Olive Us, this adorable web series starring the cute-as-a-button (or six buttons?) brood of Design Mom's Gabrielle Blair? Here is one my favorite episodes, where the kids visit a pottery workshop and make a wide variety of adorable clay creations, including — wait for it — a "dog bowl for a mouse." Even the baby gets in on the fun! There are a bunch of other episodes on the Olive Us website. Check it out!
Pottery Lesson from Olive Us on Vimeo.
(PS. Visit Conversion Diary for more Quick Takes.)